Come down and soothe your savage soul with a look at what is on our walls. Perhaps you'll even want to take a piece home.  Gallery hours are Friday, Saturday, and Sundays from 2pm to 4pm, or by appointment.  And be sure to come by our opening receptions (refreshments provided) to meet the artists!

---
SATURDAY, JUNE 9-THURSDAY, JUNE 28
TEXTURE & LINE
by Anne Bernard
Reception: Saturay, June 9, 5-7pm
Anne Bernard's delicate ink-and-encaustic images would be as at home in the caves of Lascaux as they are here on our walls.  Alive with color and texture, her abstract images are studies in form and line that shift and change with the viewers perspective.
Anne Bernard was born near Portland, where she spend her formative years exploring the sea and the woods.  She now lives in Bridgton, and is a member of the Commons Art Collective in Norway.

---
FRIDAY, JUNE 29-THURSDAY, AUGUST 2
AQUARIUM + AVIARY
by Jean Kigel
Reception: Friday, June 29, 5-7pm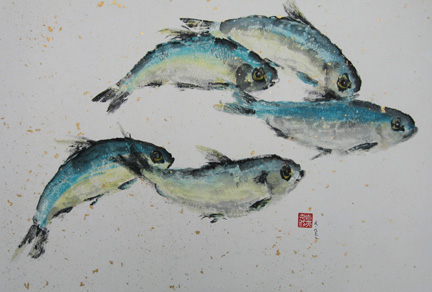 Down East meets Far East as award-winning Mid-coast Maine artist Jean Kigel transforms the main hall of the DAC into an oriental aquarium and aviary with a showing of her celebrated Gyotaku fish prints and Sumie-e birds.
Jean Kigel specializes in Asian brush painting executed with watercolors and sumi on hand-made, Chinese papers and silk.  Her work is characterized by minimalism and the use of negative space.  She has traveled widely in Japan and China, and has studied with Japanese, Chinese and Vietnamese masters both abroad and in the United States.

---
FRIDAY, AUGUST 3 – MONDAY, SEPTEMBER 3
DENMARK / ME
by Peter Pentz
Reception Friday, August 3, 5-7pm
Photographer Peter Pentz has been documenting the town and citizens of Denmark since 2010.  His portraits of the stately character of the town and its residents.  Come have a look: maybe you'll recognize someone!
Peter Pentz is a New York photographer whose work focuses on the sublime oddity of the everyday and the chance encounters he has with strangers.  His photographs are records of his endless appreciation for the mystery and beauty of human experience in all its myriad shapes.